How Heat Pumps Can Help Remove Allergens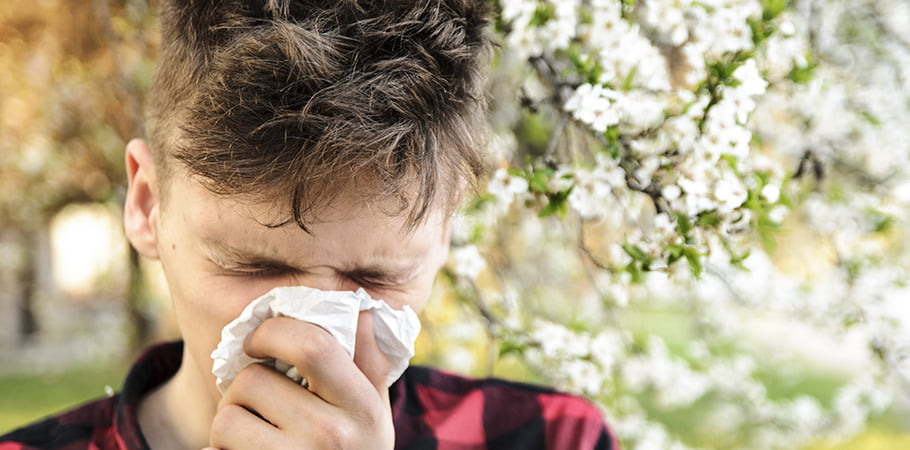 It's that time of year. The days feel slightly longer, the air temp is a touch warmer and trees are flowering  – these are all tell-tale signs that Spring has arrived. If you're an allergy sufferer however, it comes with a slightly more ominous sign – hay fever.
Hay fever is the most common allergic disorder in New Zealand, affecting an estimated 1 million Kiwi's and causing a range of issues including itchy, red and watery eyes, runny nose, constant sneezing and severe cases, headaches and drowsiness.
It's caused by the nose and/or eyes coming into contact with environmental allergens, such as pollen, dust mites, mould and animal hair. During Spring, pollen from grasses and newly flowering trees is the main culprit and can easily set off hay fever.
Many of us who suffer from hay fever during this period and especially those who suffer all year round, know that antihistamines are a life saver and help reduce severity of the symptoms. However, most people are probably unaware that while designed to keep you comfortable all year round, split system heat pumps can also help reduce airborne allergens.
We take a closer look at Mitsubishi Heavy Industries split systems and their anti-allergen features.
Allergen Clear Filter™
As air is drawn into the top of the split system, various airborne allergens come with. The Allergen Clear Filter™ in Mitsubishi Heavy Industries split systems is designed to capture these airborne particles which includes pollen and dust1. The Allergen Clear Filter contains a specially formulated Enzyme-urea compound which breaks down the captured allergens and deactivates any bacteria2 they may carrying, including mould and viruses3 .
Photocatalytic Filter
The photocatalytic filter is the next line of defence. This filter captures airborne particles, including smoke particles, before neutralising odour causing molecules within the captured particles. This filter is easy to wash and helps ensure your home stays smelling nice and fresh!
allergen clear operations
This multi-stage operation involves the unit cycling between heating and cooling modes to generate internal moisture which in turn activates enzymes within the specialised Allergen Filter. These advanced enzymes then break down the allergens captured by the Allergen clear filter as well as deactivating bacteria2 including mould and viruses3 . The Allergen Clear operation can be activated by pressing the 'Allergen' button on the remote control and runs for 90mins before stopping automatically.
Self Clean Operation
Self Cleaning Mode is a separate function which is designed to dry the internal components, including fan and filters. This helps eliminate mould and helps deliver clean and odour free air. This is meant to be run after the Allergen Clear Operation and it's recommended that this operation is used every few weeks.
Thinking of replacing or upgrading your air conditioner? To speak with a local MHI installer, who can recommend the perfect solution for you, visit our request a quote page, leave some details and we'll get a MHI installer to get in touch!
1Test method: ELISA colorimetric method Laboratory: Independent administrative agency national hospital mechanism Sagamihara Hospital, No.1536
2 Test method: ELISA colorimetric method / ELISA fluorescent method Laboratory: Independent administrative agency national hospital mechanism Sagamihara Hospital, No.1536
3 Test method: TCID (Infection value 50%) Laboratory: Foundation of Kitazato Environmental Science Center, No.15-0145
You might also be interested In