Preparing Your Home Office for Summer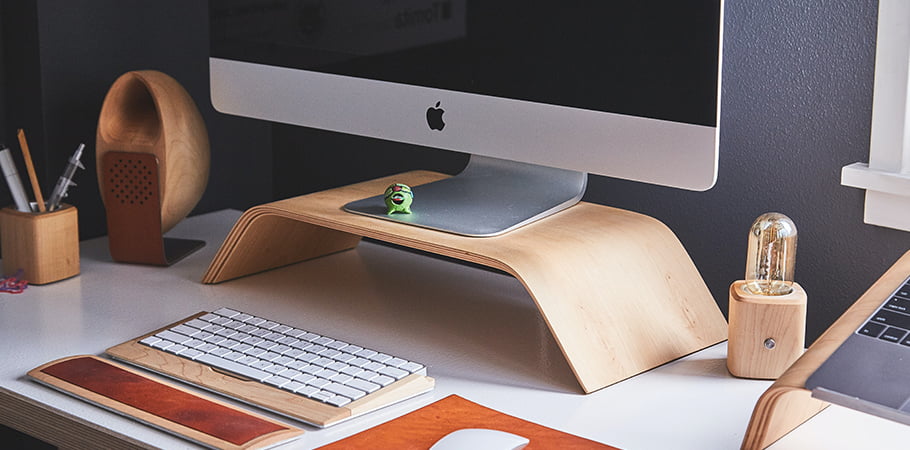 As we head into warmer months, with many of us still working from home, it's important to ensure your home office as comfortable as possible. Not only does this help with mental well being (something we could all benefit from given these weird times), it also helps improve your mood and boost productivity.
We've put together a list of 5 handy tips to help organise and prepare your home office for the coming warmer months.
CREATE A DEDICATED WORK SPACE
Creating a dedicated workspace that lets you separate work from your private life and helps maintain that work/life balance. At the end of the working day leave this space as you would your normal office and only return to it on the next day.
While you can easily get caught up in checking that extra email or completing that extra task outside of work hours it is important to remember to keep within your work days and separate your work day from your home life. With this you'll not only aide your productivity during the day but also find it easier to leave your desk.
LIGHT IT UP
A study conducted by the Department of Design and Environmental Analysis at Cornell showed that employees seated within 3m of a window reported an 84% decrease in eyestrain, headaches, and blurred vision symptoms. Where possible, set yourself up near a window to ensure your workspace receives plenty of natural light.
Ensuring your home office gets some natural lighting will not only reduce eye strain but can also help your mental well being. Vitamin D is proven to play an important role in regulating mood and warding off depression as well as help keep you healthy! For those overcast days set yourself up with a desk lamp!
SET A COMFORTABLE TEMPERATURE
In the office we often have one of two complaints. We're either too cold or too hot.  Luckily, working from home lets you control the temperature yourself! While many people suggest that the best working temperature is between 22° and 24° Celsius, studies suggests that different people work better in different temperatures. Whether you prefer to be slightly cooler or warmer, find a temperature that works for you and look at using whatever appliance you have handy (fan, heat pump, etc.) to help keep you comfortable.
If you feel your home office is too warm and the fan isn't cutting it – you may want to consider investing in a reverse cycle heat pump. Our range of Consumer recommended, reverse split systems are quiet, energy efficient and come in a range of sizes. With the ability to both heat and cool, split systems are the perfect for any sized home office.
clear the air
As we've covered in previous articles, the air quality in your home can have a huge impact on your overall health. Even more-so given we're now spending more time at home. Not only this, research carried out by the World Green Building Council recorded an 11% increase in productivity as a result of increased fresh air to the workstation and a reduction in pollutants. We've put together some helpful tips on how to improve the air quality in your home.
Additionally – did you know that a Mitsubishi Heavy Industries heat pump can also help improve indoor air quality? Our range of split systems incorporate our 'Clean Air Technology' which incorporates a number of specially designed filters, functions and components which capture and neutralise allergens, odours, bacteria and viruses. Perfect for asthma or hayfever sufferers. Visit our blog to learn more about clean air technology and how heat pumps can help improve indoor air quality.
If you're considering replacing our upgrading your heat pump for your home office, leave some details in the form below and we'll get an authorised Mitsubishi Heavy Industries installer to get in touch to provide a quote!
You might also be interested In