Product In Focus: Bronte Split System Heat Pump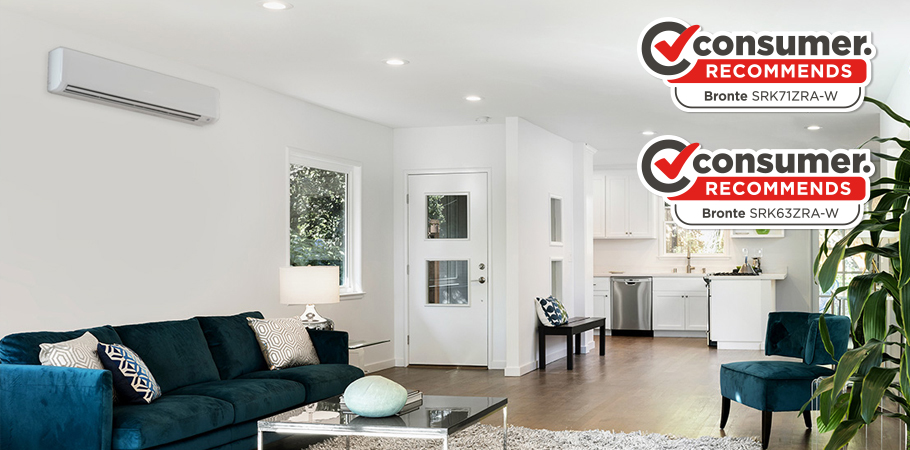 Ranging from 6.3kW up to 9.5kw in capacity, the Bronte series is a our larger split system heat pump. A customer favourite, the Bronte split system heat pump packs a powerful punch while also being quiet and efficient. It also includes the same convenient features and functions that Mitsubishi Heavy Industries split system heat pumps are known for.
But exactly why is the Bronte so well loved? We take a closer look at the the key points that we believe make Bronte one of the best split systems on the market.
RECOMMENDED BY CONSUMER in 2021
In their latest 2021 review, leading consumer advocacy group Consumer has again recommended a number of Bronte models including the 6.3kW and 7.1kW models. Consumer analysed performance data from 256 heat pumps before rating them based on their heating and cooling efficiency, indoor and outdoor noise levels and performance in low temperatures. 
The 6.3kW model heat pump, which scored 83% for its heating efficiency, 83% for it's low temp performance and 83% for it's outdoor noise level, achieved an overall rating of 82% – the highest rating among the large capacity units.
The 7.1kW model was also recommended, scoring an overall rating of 78% with a huge 84% for low temp performance making it the second best performing, high wall heat pump in colder temperatures. It also received a 91% rating for it's outdoor noise level – the highest rating of any heat pump! If you're a Consumer member, you can see the full review here. 
LONG REACH AIRFLOW
When it comes to powerful airflow, Bronte is top of it's class. By utilising CFD (computational fluid dynamics), used by jet engine manufacturers, our engineers have been able to improve and optimise the design the internal fan blades, allowing the Bronte to deliver the most powerful yet efficient airflow possible.
This advanced and specifically engineered design gives the Bronte an industry leading, 18m long reach airflow* and ensures powerful and even air distribution whilst remaining efficient to run. This makes the Bronte perfect for larger spaces up to 105m2. Learn more about which size may be best for your space by reviewing our split system sizing chart in our split system brochure.
quiet by design
Despite it's powerful airflow, the Bronte boasts quiet operation levels. The 6.3kW, 7.1kW and 8.0kW models are the quietest, producing only 25dB (A) on low fan speed while the 9.5kW models produces a slightly higher 26 dB(A). To put it into perspective, a whisper from someone nearby is 30 dB(A) and the gentle hum of a fridge is around 40dB(A).
The unit also includes a silent mode which reduced operating noise even further! This means you'll be able to remain nice and cool during summers on the couch but still be able to hear the cricket!
CLEAN AIR TECHNOLOGY
As we've mentioned in previous articles – the air quality in your home can have a huge impact on your overall health. Even more so if you are spending more time inside, including working from home. The Bronte split system can help improve air quality as it incorporates Mitsubishi Heavy Industries' 'Clean Air Technology'.
Clean Air Technology is a combination of several different yet specialised components, systems and functions that are designed to work in synchronisation to improve indoor air quality. Multiple, specially designed filters capture airborne allergens such as pollen, hair and dust as well as fine smoke particles. The Allergen Clear Operation works to deactivate captured odour causing bacteria, including mould and viruses while a specially treated anti-microbial fan also helps to inhibit the growth of mould within the unit . Finally, the Self Clean Operation helps to clean and dry all internal components to help delivery clean and odour free air!
Visit our blog to learn more about Mitsubishi Heavy Industries' 'Clean Air Technology' and how it can help improve indoor air quality in your home.
*7.1kW, 8.0kW and 9.5kW model in cooling mode.
If you're considering replacing our upgrading your heat pump with a Mitsubishi Heavy Industries system, leave some details in the form below and we'll get an authorised installer to get in touch to provide a quote!
You might also be interested In